yduJ pines for the Fjords
Once again, Ken had a conference in an interesting place, so we all went. This time to Bergen, Norway. Bergen is the 2nd largest city in Norway after Oslo. After we'd decided to go and booked tickets and so forth, I learned that Bergen is very rainy. Fortunately for us, it only rained about half the days and we managed to do rain-compatible activities on those days. It was beautiful two of the days, including the day we arrived.
We started with a stop in Iceland, where we'd been four years before, because there are very few flights to from Iceland to Bergen, about three a week, only leaving at 8am. The flight from the U.S. lands in Iceland at midnight. That's an 8 hour layover in the middle of the night with two nine-year-olds. So, Valerie and I and the kids had a compressed bonus day in Iceland, staying there two nights. Ken actually had five bonus days in Iceland, heading there with Peg, for whom this was the first visit, for some serious non-kid-friendly hiking. So Ken got to do new Icelandic things, since last time we didn't really hike.
On our bonus day, Peg and Jocelyn and I went to the Blue Lagoon, where we spent more time lounging in the water than we had last time. Perry didn't come; instead he and Ken and Valerie went on walks in the rain. Rain is more compatible with the lagoon. What, you might get wet? The return bus from the blue lagoon did not stop at our hotel like the outbound, so we had to get picked up at the airport again (fortunately airport transport is one of the perks here, and I'd verified the night before that it would be OK to use this service just to come back from the Blue Lagoon...) Then later in the afternoon we walked to a nearby public swimming pool. Unlike the ones we visited last time, this was an outdoor pool, and it was a cool day, so we spent a bunch of time in the hot tub as well. But, being a bigger facility, it had a water slide, which we also enjoyed. Though it was quite chilly climbing the ladder to the top! Then, up early the next day and off to Norway.
We had arranged to rent an apartment in Bergen, for which we paid NOK1500/night (about $300), and they wanted cash upon arrival for all five nights. Well, it turns out that my bank card will only let me get $500 per day. Good thing there were three of us...
The apartment was awesome. It's so hard to tell what you're getting with these internet bookings, but we really lucked out. It was very centrally located, just two or three blocks from the harbor. It was a 3rd floor walk-up, with a little loft and roof terrace accessed by a spiral staircase. The kids slept in the loft. Then there were two bedrooms for the adults, a small living room, and a small kitchen, which was pretty well stocked with condiments and other food. We inquired if we could use same, and were told yes, and I was even able to make cookies. It was a bit of an adventure, with "I think this says baking powder, but I don't know how big this spoon is" but they turned out pretty well.
Everything is VERY expensive in Norway. The exchange rate is not favorable. Dinner tended to be in the $150 range for the five of us. $100 worth of groceries (for breakfasts and lunches) fit in two plastic grocery bags. If you want fresh fish from the harbor restaurants, you're going to pay, and the hot dog you get for the kids isn't cheap either. Strangely, the day we said "let's just have fish and chips at the outdoor take-out place" was also about $150 for the family dinner. You'd think that would be cheaper! One night we got fish from the fish market to cook in the apartment, but Valerie didn't do price comparisons so I don't know what we paid.
The day we arrived we checked our luggage at the train station (despite not arriving by train) and walked around the city before we could get into our apartment. There are little cobblestone streets with 3-4 story tile roofed buildings set close together. Sometimes the streets are wide enough for a car, but often they are just alleys, but they are named anyway. The city climbs a hill (Floyen), and sometimes staircases are named!
Our first real day it rained. Ken and I walked to the car rental place (a mile or so), and then picked up the rest of the family for a drive outside of the city. After some consideration, we chose a waterfall, Steinsdalsfossen, as our destination. On the way there we ended up stopping at two more waterfalls including Fossen Bratte.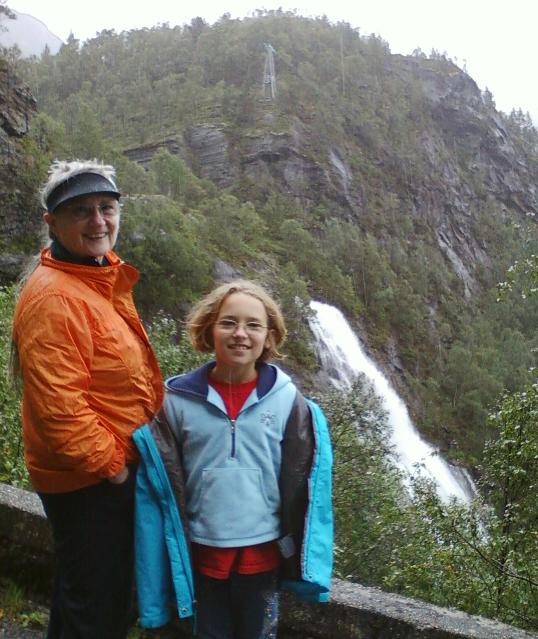 You can walk behind Steinsdalsfossen, and not even get very wet, there's quite an overhang. I guess it's pretty hard rock, but eventually it will fall and I'm sure that will be spectacular (and possibly deadly).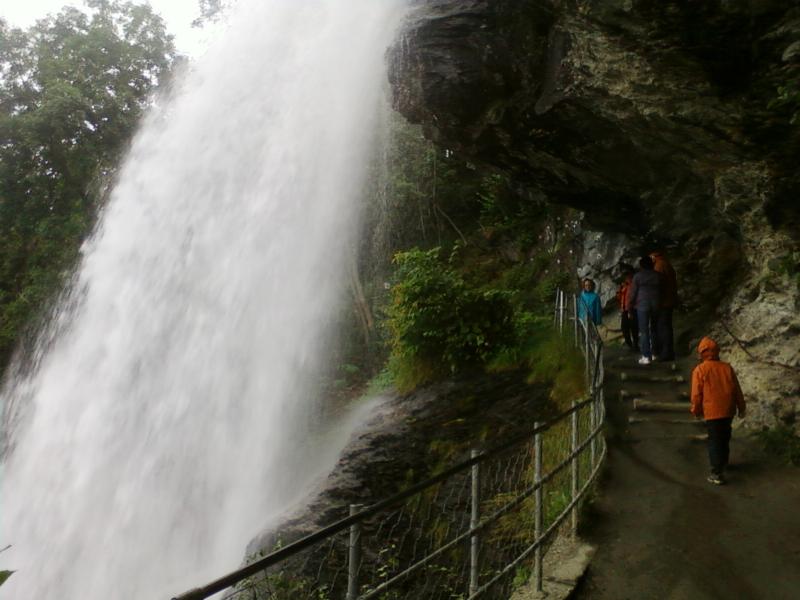 It was pretty from the front too: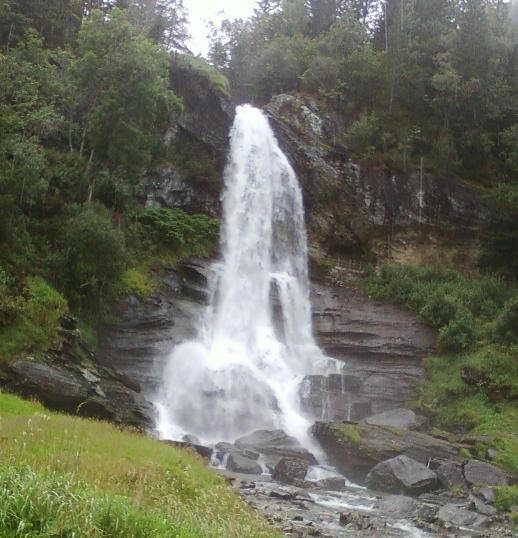 There were an amazing number of tunnels on the road. It seemed every mile would be interrupted by a tunnel, some quite long (though none rivaling the Mont Blanc Tunnel that we went through two years ago). The terrain is so steep with so many "wrinkles", they just can't go over the hills, nor is it practical to go around them, so they just go through.
Norway is famous for its sod roofed houses. There weren't many in Bergen, but outside of the city we found a lot.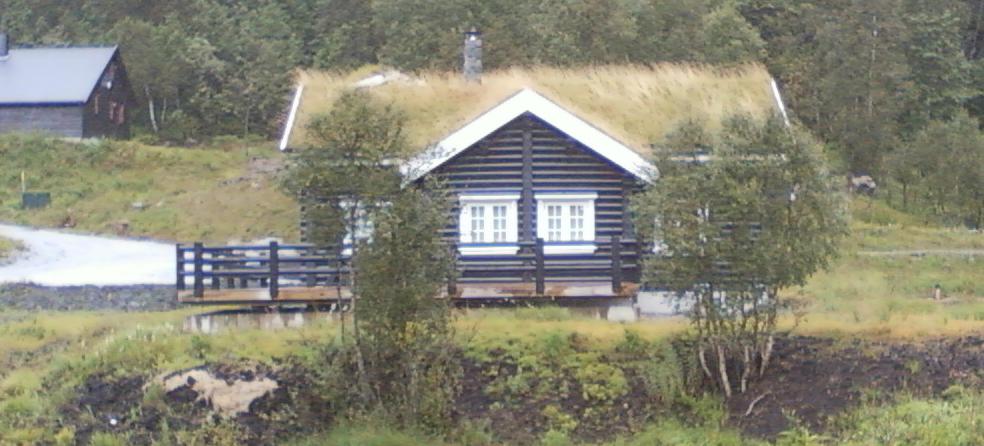 We were amused by the juxtaposition of the sod roof and the satellite dish.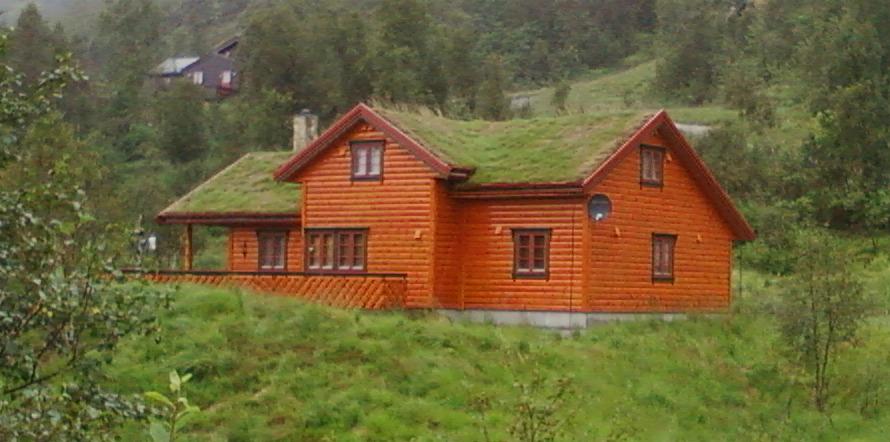 We ended our driving trip with the Hattvik - Venjaneset car ferry across Fusafjord. The kids enjoyed the idea that the road went across the water, which was good because they were starting to get bored with the whole sight-seeing-from-the-car thing.
Parking the car overnight was a bit of an adventure as well. The city is not designed for motor traffic. There were plenty of cars, and some parking, but getting a spot involved either being very lucky, or hoofing it a distance. We hoofed it.
We started our next day with a ride up the Floyen funicular. We had intended to just stroll around the wide gravel paths at the top, but at the ticket office someone handed us a treasure map. So we spent the morning following the clues on the map and finding answers to the question that's tacked to the tree or whatever that you get to. There was a lot of scrambling up and down ladders and rock faces and splashing through puddly areas! We were not prepared for this. Well, we were, but we had left our hiking boots and other useful gear in the apartment! After solving the puzzle, we received yo-yos as a prize, which Jocelyn had a good time with, really learning how to yo-yo.
Perry wanted to walk down, but Jocelyn didn't, so Valerie accompanied Jocelyn in the funicular while Ken and I walked down with Perry. It is steep in parts and my calves and toes were really complaining by the end.
In the afternoon, Ken had made an arrangement to go paragliding from Ulriken, another nearby hill, but one which required driving. Unfortunately we had failed to get good directions to the place, and spent 45 minutes stopping passers by, having them not know the right word for "left" in English and so send us the wrong way, stopping others, getting told to turn around -- except this is a one-way street -- so you'll have to go around the block and it's not exactly square! We will never travel without a cellphone again. But finally we met the guy at the landing area (a local soccer field), and we all drove up to the base of the mountain, where we took a tram up. I commented that the trams were little (they hold 10-15 people), and the paragliding pilot said, "well this isn't Switzerland!"
Unlike Floyen, the top of Ulriken is more what you would expect, without paved paths. It has a small coffee shop and ticket office attached to the tram, but otherwise is unimproved. Ulriken is about 2000 feet high (compared to Floyen's more modest 1300 feet), but it is still above tree line. So we got a good view of the city and surrounding fjords.
We walked a half mile or so to the launch point, where the pilot spread out the parachute and its lines on a kind of netting that had been laid out over the rocks, I guess to give a smoother place for the chute to slide along the plateau during launch.
The kids were interested in the whole procedure.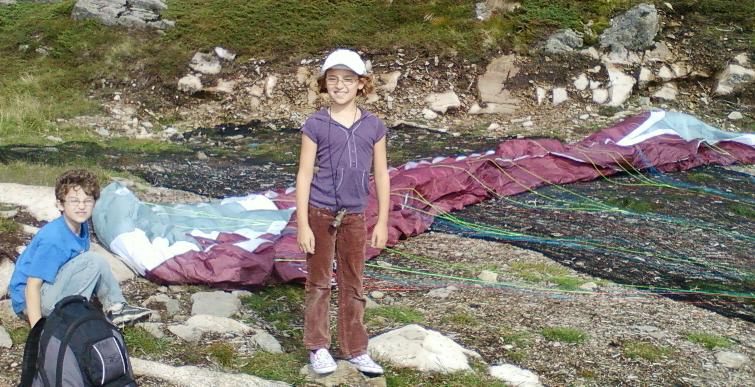 The harness is almost a little chair, but with the seat kind of folding away so you can run at the beginning to get launched.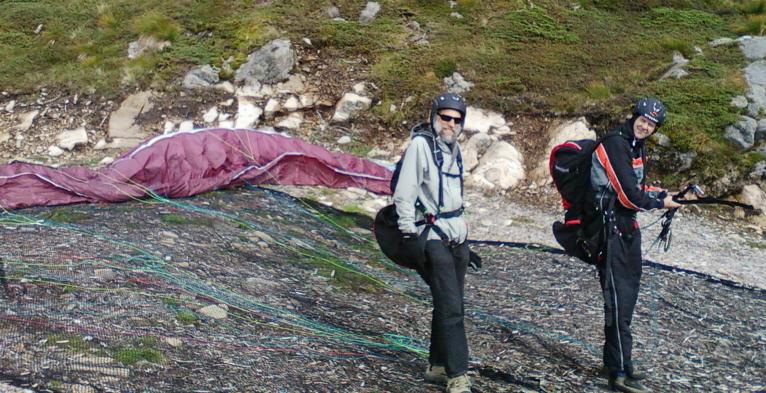 Finally they are ready. Ken was hooked up to the chute and the pilot. Ken's just along for the ride; the pilot does all the manoevering.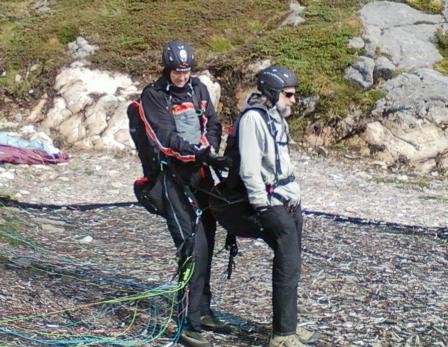 The pilot flipped the parachute up a few times to get it filled with air, and told Ken to start running -- off the cliff! We watched them take off and started chasing them along the cliff, trying to take pictures.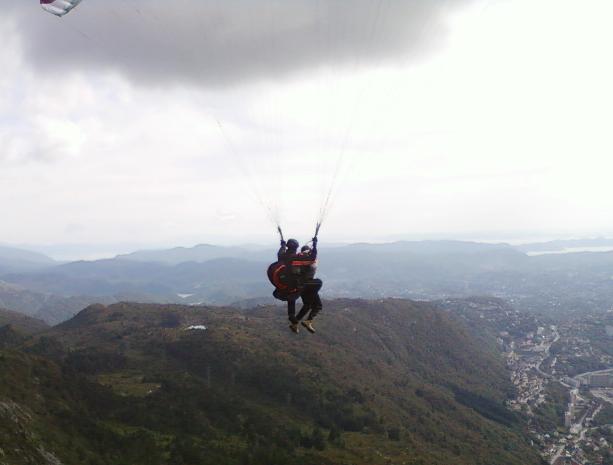 Ken got a spectacular ride, about half an hour. The pilot had said it could take anywhere from 10 to 30 minutes to get down to the landing field, and this ride could have been longer; the pilot had to intentionally lose altitude at various points to get down. Nice updrafts that day, apparently.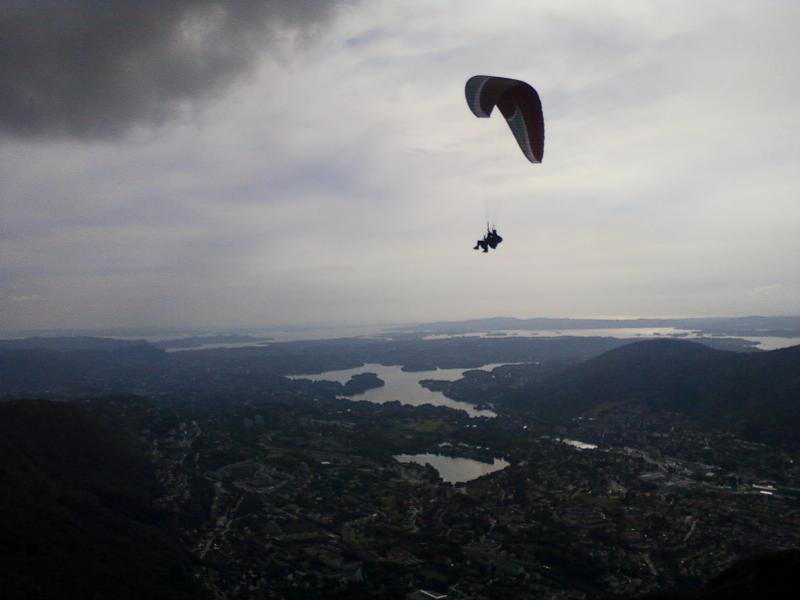 The kids and I took the tram back down and drove back to the landing area. Fortunately I had Perry along, as I hadn't paid quite enough attention in the drive up to the mountain (despite being the driver!) so we managed it without getting lost. Then we returned the car, whew, not having to park again!
Our final day together started with a walk, this time just on the city streets, but we wanted to get high enough to see the view. It was forecast to rain, but it didn't start doing so til after lunch. There are a couple of zigzag streets which rival Lombard for steepness and length, and we did get a good view.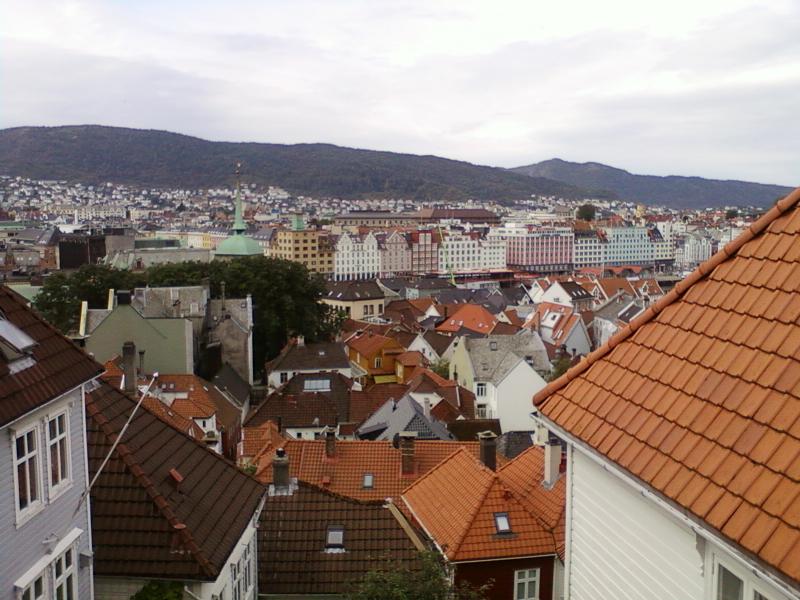 In the afternoon we took a fjord boat tour. It was a little long, about four hours total, but you need to go moderately far from the city to get to the narrows. The vertical cliff faces are spectacular, even on a rainy day. But they're the sort of thing that doesn't come out well on a cellphone camera, especially on a rainy day. We knew it was going to rain, so we had all worn raincoats and brought rainpants. Valerie and Perry and the rest of the passengers huddled in the main cabin and looked out through windows, but Ken and Jocelyn and I stayed up on deck in the wind and rain. I kept feeling like I should grab the tiller and start steering -- we had sailed many times in these kinds of conditions a decade earlier, when we still had an ocean-going vessel.
There was a maritime chart of the area posted on a wall inside the boat, and Perry and Ken spent some time following our progress. We regretted not bringing Perry's GPS on this trip.
Ken and Valerie left just before lunch the next day on a cruise ship, which was the first leg of the conference, the rest to be held in Copenhagen. The kids and I accompanied them on the walk down to the harbor, but due to security reasons they would not let non-passengers on the boat, so we had to say our goodbyes and let them board. Apparently they had extremely posh accommodations; Ken says it was the largest bedroom he had by far on the entire trip.
So here I was, on my own with the kids for 24 hours. (Did I mention that there aren't many flights from Bergen? Well, on Iceland Air, anyway. So we had to stay an extra day.) We'd had some words beforehand about behavior, and the fact that there would only be Mom. Jocelyn said that she'd be on good behavior if Mom promised not to scream. I said this was a fair trade. We had agreed that a good activity would be the Bergen Aquarium, so off we went. It was on the opposite side of the harbor from the ship, and we were able to take a little ferry across, run by an old geezer with not much English. We got to take a different little ferry from near the aquarium back down to the end of the harbor nearer our apartment. Kids liked this better than walking, though it only saved a couple miles.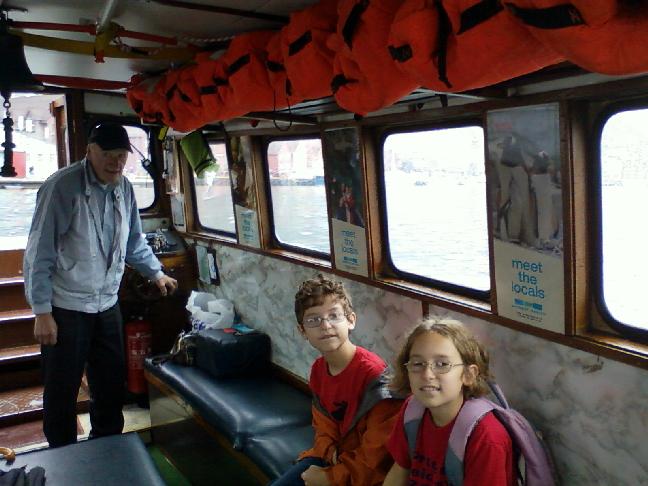 The aquarium itself is decent, though it's clearly mostly attended by locals rather than tourists. We went to one of the scheduled activities, and the employee nattered along in Norwegian for a while, and then said "Does anyone need this in English?" I raised my hand, as did one or two others, in a crowd of maybe 100 onlookers. So he politely gave the spiel in English. Some of the time it was clear he was saying more stuff in Norwegian, but that was OK, we got the precis. They had a pretty nice trained seal show, and a penguin feeding and a carp feeding with naturalists giving a spiel. Penguins don't like to eat dead food, but it's not practical to have them actually go fishing, so naturalists have to cram the fish down their throats. Every day! Many penguins! What a pain!
Jocelyn likes penguins a lot, so we spent a fair bit of time observing them. There was a lot of penguin interaction, including quite the altercation between two of them (probably males, though we didn't actually inquire).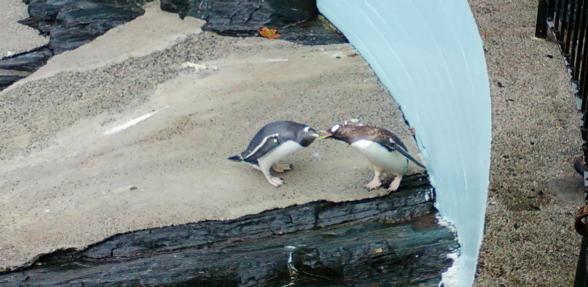 That evening I finally learned how to eat moderately cheaply in Norway: Pizza! A medium pizza for the three of us cost about $13. By this time we were also becoming concerned about getting home. You see, there was a hurricane. So I spent a moderate amount of time hogging the laptop looking at flight status and weather predictions.
I tried to check in the next morning online and something went awry, so we headed off to the airport. We checked in at the kiosk, and then, because we are not quiet, an employee wandered over to say "Boston? We are waiting for a weather report in an hour to decide whether to send you on." I was like, "um, there aren't daily flights from Bergen to Iceland -- I'd much rather be in Iceland. Please send me to Iceland where there are twice daily flights to Boston and even more frequent to New York. Get me closer to home!" But they said no, they had to wait for the central office to tell us. But I surely didn't want two extra days in Bergen.
Stunningly, though, one of the employees found us where we were camped near an outlet about 45 minutes later and told us the flight to Boston was on, and we could check in. HURRAY!
However, when we arrived in Iceland, we saw the four hour delay on the departures board. Sigh. Jocelyn really wanted to do something with the extra four hours, which is kind of reasonable, but I was not up for it. I've certainly left the airport to do something touristy during long layovers before, but only when they were scheduled. It would totally not do for them to decide that weather in Boston is really OK and they'll move up the flight by an hour and not be here... So Jocelyn was sad.
The kids were really great about the delays and inconvenience. A little whining, but really not much. A bit of difficulty in getting kids fed at the airport because by the time they gave us food vouchers the hotdog place was closed. We figured out to get breakfast cereal. We had the nice personal entertainment systems in our seatbacks again, which was helpful, although a little napping on the plane did happen.
When our day finally ended, we had been awake 23 hours. We landed just before midnight; we were the third flight allowed to land after the airport reopened. I got home to a powerless house around 1, and we were all in bed by 1:30. So a bit of a rough ending, but overall the trip was quite the success.