Europe Tour, August 2009
Ken had to go to a conference scheduled in Talloires (pronounced tel-wah), France, at the beginning of September. We chose to make a big family adventure out of it. We started with London because you can get daytime flights from Boston to London, and we thought it would be better for the kids (and the adults) for time-zone adaptation to not have an overnight flight. We tried to "pre-adapt" by going to bed 20 minutes earlier every day for a week. This was only somewhat successful.

Our flight Sunday was pretty uneventful. The seats had individual video-on-demand screens in the seatback in front of you, and that made child-entertainment very easy. Jocelyn watched a couple videos, alternating with reading her book. While we did play some games, Perry often watched the "moving map" that updates our position every 10 seconds, with screens about the groundspeed and stuff. He loved it. We tried to get his GPS to tell us we were traveling 600mph, but it couldn't acquire satellites from inside the metal box of the plane.

The first night everyone slept very badly in a bare-bones hotel with no A/C. But we got up in time for an English Breakfast at our hotel. We started in a big playground in Kensington Park, then walked around Hyde Park for a while. Then we hopped the tube for Waterloo (lunch in the station: yummy Cornish pasties for the grownups; McD's for the kids, sigh), and a train for Hampton Court. Did the hedge maze (a big hit with Perry), and then wandered about in the castle looking at 500 year old tapestries (which, sadly, look that old.) Lots of it was nice, though. Back to the hotel, a bit of confusion about which train line connected where but we muddled through. Then we rode a double decker bus to dinner (to a restaurant that turned out to be take-out only, oops, so we ate our haul in a nearby park.) Jocelyn was thrilled; she'd seen the buses as we walked and wanted to ride one.

Our second day in London we took the boat to Greenwich. We were confused about the schedule and ended up with 45 minutes to kill at Westminster. Well, the obvious thing is to walk through St. Margaret's church -- which was nice but the kids didn't much care for it. We took the boat that went through the Thames River Barrier, which is pretty cool. They had one segment deployed in "defence position" so you could really understand how it works; I'm not sure if that's always there for the tour boats or if we were just lucky when they were testing stuff.

Next stop was Greenwich and, after lunch and new batteries for the GPS, the observatory with the official zero meridian. HURRAY, the GPS nicely displayed W000°00.000 and then also E000°00.000 (leading to speculations about its rounding and display algorithms). Our reading was about 20 feet west of the official line marked in the stone, which we later realized was because the GPS datum we downloaded is out of date, and it was pretty accurately telling us of the previous zero before they moved it in 1950 or so. Perry enjoyed this process, telling us as it counted down. Jocelyn very much enjoyed the astronomy museum there; I didn't get to see much of it as I was following Perry around in loops.

I had hoped after our Greenwich adventure to get a ride on the London Eye, but both the kids chickened out, so we just went back to our hotel. Dinner at a somewhat fancy restaurant, where we indulged Jocelyn's desire for fancy expensive dessert. Unfortunately for our pocketbooks she took a liking to this practice.

Wednesday morning we took the Eurostar to Paris, a trip of 2.5 hours. Here we did get Perry's GPS to show us 180mph. Upon arrival, we checked our luggage in a locker at Gare du Nord (which was kind of expensive) and headed out to Montmartre and the Basilica of Sacre Couer. The kids loved the funicular, a cross between a tram and an elevator, going diagonally up the steep hill. They wanted to ride back down, which was too bad, as there were lots of street performers doing interesting stuff by the pathway down. The Basilica itself was another miss for the kids; we probably should have gone down in the crypt but after we walked through the church part they were done with that building. Bought Tshirts on a crowded market street nearby, and rode a double-decker carousel a few times. Perry really didn't care for the crowds milling about.

Retrieved luggage and went to our hotel, which was situated right near the Jardin de Luxembourg, a huge park in southern Paris. The next morning we started out by going to a nice playground there. It cost, but not much, and had some really nice equipment. I kind of had a run-in with another parent, whose child was hogging said equipment. Not speaking any French, I tried to indicate that Jocelyn had been waiting a while but the parent made sure her child got to get additional turns without regard to the other children waiting. I was underwhelmed. There were a couple of other times during our stay that I thought, gee, we're nicer in Boston, not a city known for its politeness.

Lunch, and then the Eiffel Tower! There was discussion about whether various of us were going to walk up or ride up; eventually all elected to stand in the huge line for the elevator. It takes two elevators to go all the way to the top, so we ended up standing in two huge lines. (Perry seemed to not mind this crowding so much, perhaps because they were more organized.) But once at the top both kids were fascinated by the diagram of what you were seeing, and wanted to go very slowly around the tower looking at each item. They were impressed with the hugeness of Paris. Jocelyn wanted to walk down, so I went with her while others took the elevator with Perry. On the staircase they have lots of posters with information about the tower (e.g. it takes 60 tons of paint). The one I found the most fascinating was the comparison shot of a tower in Dubai: in the photo that tower was completely surrounded by construction cranes. All combined, we spent almost four hours around the tower! This meant we pretty much didn't get to see anything else that day, though.

We had dinner in a restaurant named Le Petit Josselin, which idea Jocelyn totally loved. It was a creperie, and unfortunately the kids turned out not to actually like crepes. (What's not to like about pancakes? Oh well.) More fancy dessert, at a different restaurant, since only crepes were available at the Josselin. I really don't want to get on a scale! (I'm not really looking forward to my credit card bill, either.)

Friday our train to Geneva was after noon, so we had time for one short tourist activity. Not wanting to cart our luggage or check it again, it had to be close to the hotel. What we tried to do was check another meridian: turns out that Paris was vying with Greenwich to be meridian zero back in the 1800s. There's supposedly a memorial to a French astronomer, Francois Arago, of medallions set into the ground along the meridian. And supposedly it runs through the middle of the park. So we learned the appropriate GPS coordinates and went looking. Couldn't find a single medallion... The GPS coordinates as we read them went through the exact center of some "keep off the grass" plots, the exact center of a fountain, the exact center of the Senat building. Seems like we had it right... I found a lot of sewer grates and water main access points, but no Arago medallions. Too bad. We decided not to miss our train worrying about it.

The train to Geneva was 3.5 hrs, the first 80% of the distance at TGV speeds of 165mph, and the rest at more normal 60mph speeds, because it starts to go up into the mountains. We were lucky to have seats surrounding a table this time, and so we were able to play board games rather than just card games. One we played was all about riding trains in Europe, which put Perry completely over the moon. (So much so that we had to stop the game in the middle because he was being too boisterous for the other passengers. But we were able to finish later at the hotel.)

Arrival in Geneva, finding the rental car agency, getting our stuff into the rental car all went well, but then the fun began. While not a very large city, Geneva is a maze of one-way streets, bus-only lanes, and no-left-turn signs, of which our map was woefully ignorant. It took us 45 minutes to navigate ourselves out of the city center and onto the main highway to Chamonix. At least then we got to go fast: the speed limit is 130kph, which is 81mph!

After the first few miles on relatively flat ground, the road to Chamonix is really amazing. The alps rapidly start getting steep, and there's just not much place to put a road. There was an original road with one lane each way, and then when they decided they needed two lanes each way there wasn't any place to put it. So there is one very long very tall elevated roadway for part of it, and there is a tunnel in the rock for the other part. The elevated roadway is on the "wrong side"; it has to cross over to get back in line for the tunnel. After a small mishap with directions, we ended up at our new hotel, unfortunately too late to swim in the pool.

The next day, Saturday, was Hike Day. We took the Telepherique (a large tram) up to the middle of Aiguille de Midi, about 7000 feet elevation. They really crammed us into the tram car! We could have continued on to 13,000 feet, but had previously decided that we didn't want to risk altitude sickness. The views were spectacular enough from where we did go! You could see the narrow populated part of the valley down below, and on the steep hillsides evidence of avalanches recent and older. The snow-covered mountains towered above us, with glaciers everywhere. There are lifts of all sorts running everywhere: chairlifts, big trams, little trams, everything. Some are only for winter skiing, but others, like the Telepherique, are for summer hiking as well.

Our hike was to Montenvers, about 4 miles with about 1200 feet of descent, from above tree line down through the pines. The kids held up well; Perry plodding along and Jocelyn running ahead and resting a lot. We took Perry's GPS again, and he called out our elevation periodically. There was a steep descent at the beginning, and then a bunch of ups and downs before another descent at the end. We had to ford a couple of (very very cold) mountain streams.

There's not much at the middle of Aiguille du Midi besides the tram station, but Montenvers has quite a tourist attraction. There's a hotel, food, (bathrooms!), and the interesting thing of ice caves carved into the Mer de Glace glacier. The glacier doesn't move much in the summer, so the caves survive. They get crushed every winter as the glacier pushes down the mountain, so they are carved anew. This has been going on for over 50 years as a tourist attraction. We could see entrances for the last 3-4 years worth of caves, with the most crushing obviously visible on the oldest one.

To get there, we had to either walk down another 500 foot descent or take a tram. Having just walked a somewhat strenuous hike, we opted for the tram. But once down, we discovered global warming had given us yet another 200 or so feet to descend. Valerie elected to save her sore knees and wait for us. We got to walk past plaques with "Glacier Height 1980", "Glacier Height 1990", and "Glacier Height 2000" written on them. You can see similar signs on the road to the Columbia Icefields in Jasper, Alberta, which I visited some 15 years ago. Not sure how many more years they'll be able to do this trick... Probably quite a few; that glacier is huge. And dirty. It carries down with it rocks it grinds up, plus any rockfalls that land on it. Then it melts, leaving the rocks behind.

The caves themselves were carved as the inside of a house, with ice sculptures of furniture, fireplaces, etc. The sculptures didn't have much in the way of detail, presumably because they needed to last several months, unlike what you see in a New Years celebration, where they don't care if it doesn't last more than a day. It was cold, and "raining". The glacier above was melting and at the entrance there was a lot of drippage. Rubber mats and carpeting had been put down to keep people from slipping.

Climbed back up to the tram (whew!), took the tram back up. In the winter people take the Telepherique all the way to the top, and ski down the glacier to this very tram. Finally to get home we got to ride the Cog Railway down the hill back to the center of Chamonix.

Back to the hotel, where we got to swim in the pool! We had all tired of restaurant meals, the grownups because of the expense, and the kids because it was always so slow. We took to playing quick games of 21 while waiting for the server to finally show up with our food, our check, our change. So we stopped at a grocery store and bought food to make a picnic in the hotel. What a relief -- lots more time for board games, swimming, and general relaxing.

We dithered about what to do with our second day in Chamonix. Given our travails in getting out of Geneva with the car, I wanted to allow lots of time for the return. So there wouldn't be time for a long adventure like the previous day. With the 7 mile Mont Blanc tunnel to Italy only a few miles away, we couldn't resist: Lunch in Italy! Kind of expensive; the toll is 40 euros round trip. On the way up to the tunnel entrance there were several rest areas with hiking trails to glacier and river views, and we availed ourselves of these. So we didn't completely "waste the day": got exercise and saw new vistas. Lunch was quite delicious in Courmayeur (hm, what kind of Italian name is that? Apparently this area belonged to France once upon a time.) Driving in the tunnel was mesmerizing; it's very straight and the lights are all placed at identical intervals.

After the expected struggle to get the car back to the rental agency, we visited two man-made tourist attractions in Geneva: Jet d'Eau and the Flower Clock. Jet d'Eau is a 450 foot high plume of water. Jocelyn loved it, and asked to go see it several times. The flower clock was more of a miss for both kids. We took a tour boat ride on Lake Geneva the next morning, and then in the afternoon we went swimming in Lake Geneva. Beautiful clear water, surprisingly warm considering the lake is thousands of feet deep and fed by glacier melt. Nice playground associated with the beach as well.

Finally the day arrived for our flight home! We once again had a short morning for one more tourist activity, which we did by climbing the tower of St. Peter's cathedral (a Protestant church since the reformation) for a view of the city. This gave us a walk through the old city of Geneva as well, which I appreciated, having acquired a kind of bad taste for it from my traffic travails. The flight home wasn't as smooth as the flight over for several reasons: First, we had one fewer adult as Ken remained behind for his conference. Second, it was longer, with a change in London. And third, it was much later in the day, so the kids were more tired and crabbier. But we survived, and jet lag was only a problem the first day home.

Perry's favorite part of every city was the wide variety of public transit. He always wanted to go somewhere with the most changes possible; it was a disappointment if the train nearest our hotel went directly to our destination. Jocelyn seemed to love the tour of world playgrounds and carousels. We rode at least one carousel in every country, usually more than once.
---
Jocelyn brought this little bear with her, everywhere. Frequently this meant it rode around in an adult's backpack.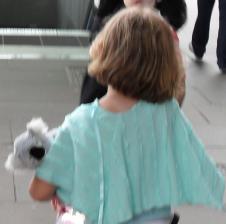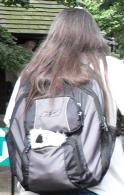 ---
Ken and Jocelyn on the Tube: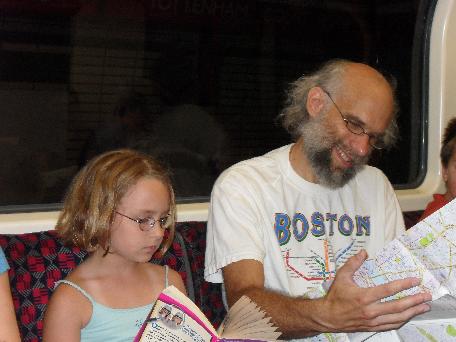 ---
Kensington Garden: Perry got the best horse! Sharing an ice cream. Jocelyn with the Peter Pan sculpture.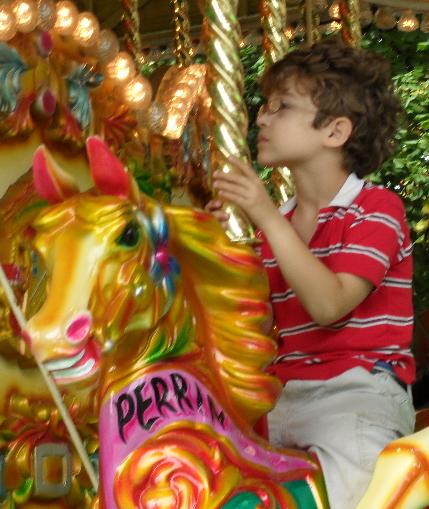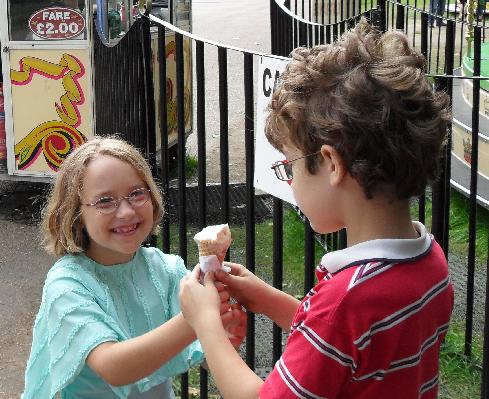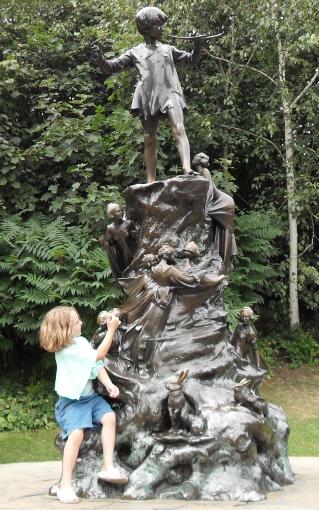 ---
As it says. (Valerie is not pictured because she's the photographer.)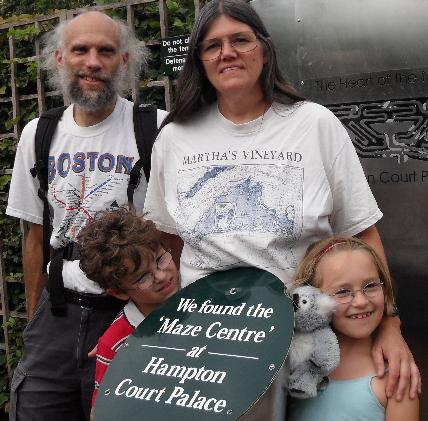 ---
The evidence of zero meridian!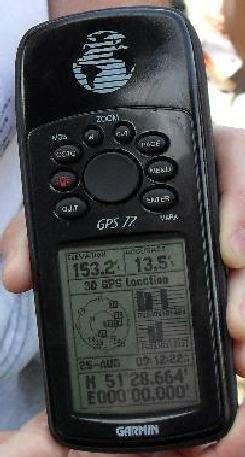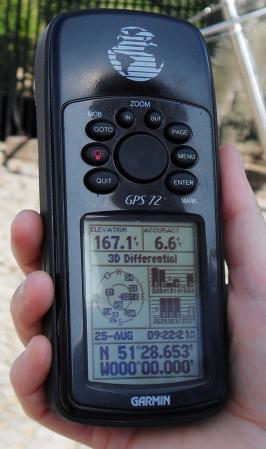 ---
Here we all go, trundling down the platform to the train!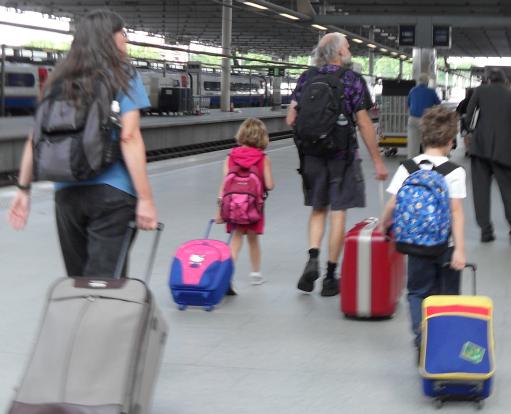 ---
The double decker carousel: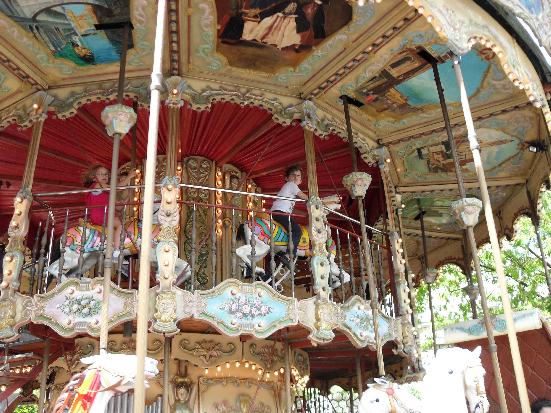 ---
Jocelyn's restaurant: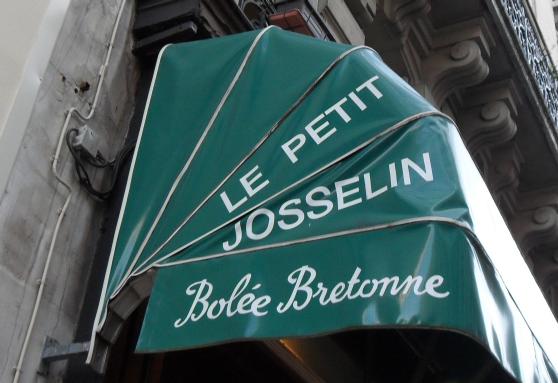 ---
The Telepherique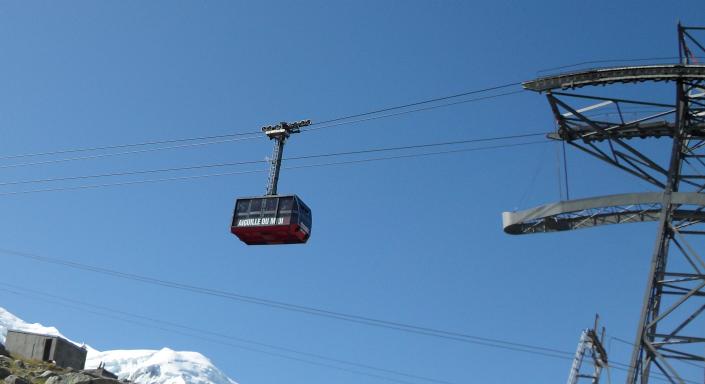 ---
The middle of the mountain (station where we got off). Mist everywhere, and a small glacier tongue. It wasn't all really that cold.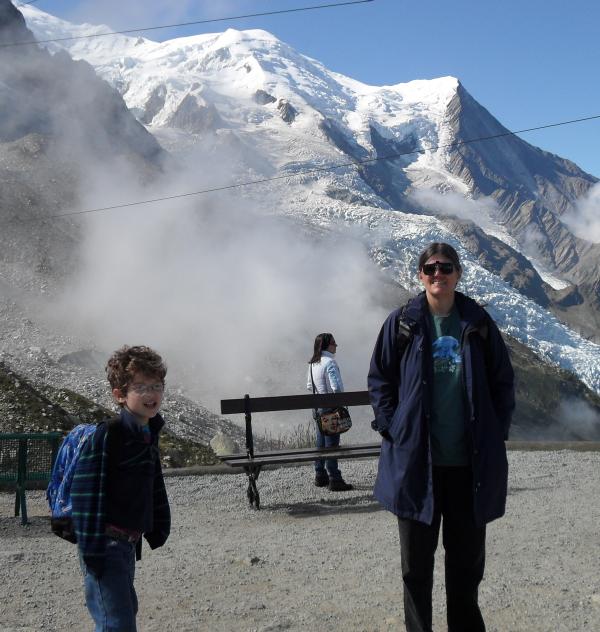 ---
I don't know who made these rockpiles, but there were lots of them everywhere on the hike.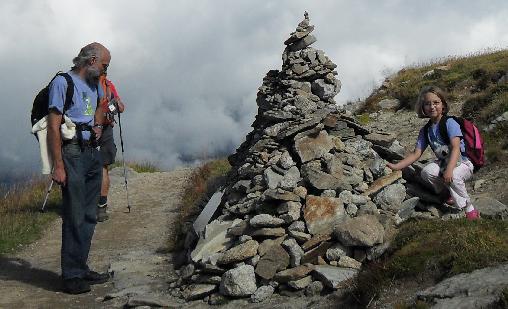 ---
The Mer de Glace glacier. Under all that dirt is hundreds of feet of ice.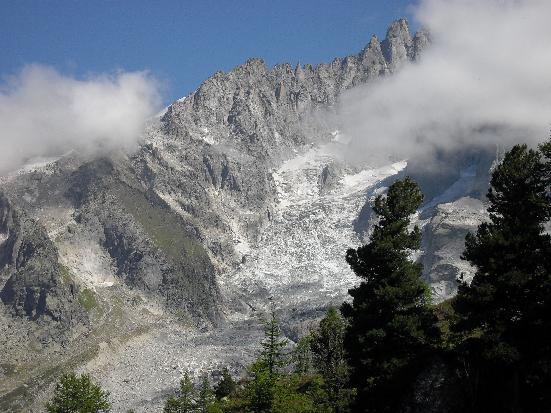 ---
Jet d'Eau and the Flower Clock